Buffered VPN Review Are you in search of a reliable VPN but not sure which one to choose? Look no further than Buffered VPN. In this blog post, we provide a comprehensive review of Buffered VPN and cover everything from plans and pricing to speed, performance, benefits, features, and more. You'll learn about the ease of setup and usability of Buffered VPN, as well as the different encryption protocols available. We also explore its special features for added protection. Privacy and security are major concerns for users, so we dive into how secure Buffered VPN is and its logging policy. For those concerned about performance and speed, we analyze Buffered VPN's speed, reliability, and consistency. We also cover how it performs for streaming and if torrenting is supported. Lastly, we break down the pricing plans and value for money before discussing customer support reliability. By the end of this post, you'll have all the information you need to make an informed decision on whether or not Buffered VPN is right for you.
Buffered VPN Review 2023
Buffered VPN, a popular VPN service, has recently merged with Encrypt.me. While Buffered VPN is known for its user-friendly interface, fast connection speeds, and reliable security features, it falls short when it comes to unblocking Netflix. For that, users may need to opt for premium vendors like ExpressVPN. In addition to offering dedicated apps for all major platforms, Buffered VPN also provides router compatibility. With over 40 servers available in 37 different countries, including three server locations within the US, users have plenty of options when it comes to choosing a server location. Our review of Encrypt.me provides a detailed overview of Buffered VPN's performance and features, including its encryption protocols and privacy policy. Overall, Buffered VPN offers a solid option for users looking for a reliable and secure VPN service.
Overview of Buffered VPN
Buffered VPN's user-friendly apps cater to various devices, ensuring ease of use and accessibility across platforms. With unlimited bandwidth and server switches, users enjoy a seamless browsing experience without constraints. By utilizing the OpenVPN protocol, Buffered VPN prioritizes secure connections, safeguarding user data and privacy. The provider offers prompt customer support through both email and live chat, addressing queries and concerns effectively. Simultaneous connections across different devices provide added convenience and flexibility for users.
Buffered VPN Review Key Information
💸

 Price
9.99 USD/month

📆

 Money Back Guarantee
30 Days

📝

 Does VPN keep logs?
No

🖥

 Number of servers
30+

💻

 Number of devices per license
5

🛡

 Kill switch
No

📥

 Supports torrenting
Yes
General Information
Buffered VPN offers a wide network of servers across 45 countries, allowing users to select specific servers based on their preferences. To ensure optimal performance, users can test the bandwidth of different servers before connecting, enabling them to make informed choices. The VPN supports various platforms, including Windows, iOS, and Android devices, catering to a diverse user base. With unlimited speed, users can enjoy seamless browsing experiences without any restrictions. This ensures that the VPN delivers consistent and reliable performance across different activities and platforms, making it a valuable choice for users seeking fast and secure connections.
Usability and Ease of Setup
Setting up Buffered VPN is a breeze, thanks to its user-friendly app layout and helpful tutorials. Even beginners will find the installation process straightforward. Additionally, support for the open-source OpenVPN app further enhances the user experience, ensuring smooth navigation. Users can conveniently access live chat support directly from the Buffered website, making troubleshooting a seamless experience. The service also provides configuration files for different servers, ensuring that setup is quick and hassle-free.
Buffered VPN Pros & Cons
Buffered VPN offers a number of advantages that make it a top choice for users in need of secure and private internet browsing. One of the key pros of Buffered VPN is its strong encryption, which ensures that all data transmitted through the VPN is protected and inaccessible to third parties. Additionally, Buffered VPN boasts a large server network spread across multiple countries, allowing users to bypass geographic restrictions and access content from anywhere in the world. The service also offers unlimited bandwidth and high-speed connections, ensuring a seamless browsing experience. Furthermore, Buffered VPN has user-friendly apps for various devices and platforms, making it easy for users to set up and connect to the VPN. Overall, with its robust security features, global server network, and user-friendly interface, Buffered VPN is an excellent choice for those seeking privacy and freedom online.
Pros
Above-average performance
Works with any OpenVPN-compatible device
Unblocks Netflix
Live chat support
Cons
Small network
Privacy policy is short on details
Below-par desktop client
Some dubious info on support website
Detailed Analysis of Features
Buffered VPN conducts speed tests to ensure optimal server performance, providing users with a seamless browsing experience. The kill switch feature offers an additional layer of security, preventing data exposure in case of unexpected VPN disconnection. Users benefit from unlimited bandwidth, enhancing their browsing and streaming capabilities. The service supports the open-source OpenVPN protocol, ensuring a secure connection while protecting user data and activity. Additionally, the responsive customer support team promptly addresses user queries, ensuring a reliable and supportive service experience.
Understanding Encryption and Protocols
Buffered VPN ensures data integrity through HMAC authentication, and its firewall test feature protects against cyber threats. The use of the OpenVPN protocol enhances connection security, while the app's settings allow users to configure connection duration. Additionally, user data and personal information are safeguarded against third parties. These features make Buffered VPN a good choice for users concerned about their privacy and security. The service's commitment to encryption protocols and data protection reflects its focus on user privacy and security.
Exploring Special Features
Buffered VPN's special features include a free trial for users to test the service before committing. The app supports the open-source OpenVPN protocol, ensuring a secure connection, while also providing unlimited bandwidth for seamless browsing and data transfer. Users can benefit from simultaneous connections on different devices and test the response time of different servers for optimal performance. These special features enhance user experience and provide added value to the service. Additionally, the service ensures that users can access the fastest VPN servers, ensuring reliable and consistent performance.
Privacy, Security, and Logging Policy
Buffered VPN upholds user privacy through a strict no-logging policy, safeguarding user data. The service employs the OpenVPN protocol for a secure connection and customizable connection duration. It also features responsive customer support. Users can test server response times to ensure optimal performance.
Security – Is Buffered VPN Safe?
Buffered VPN ensures strong security by utilizing 256-bit AES encryption, protecting against DNS leaks, and incorporating an automatic kill switch (which can be activated in the settings) on both Windows and MacOS platforms. Our testing confirmed that there were no leaks detected. To provide an additional layer of protection, Buffered VPN employs Perfect Forward Secrecy, which generates a unique encryption key for each session. This guarantees that even in the highly unlikely event that one of your encryption keys is compromised, your past and future data will remain secure. Buffered VPN exclusively supports OpenVPN protocols and allows you to choose between UDP and TCP. OpenVPN protocols are widely recognized as the most secure option available, ensuring that your connections are safeguarded against any vulnerabilities found in older protocols.
How Secure is Buffered VPN?
Buffered VPN ensures a secure online experience by protecting user data from third parties. With unlimited bandwidth and responsive customer support, users can enjoy smooth browsing and prompt assistance. The app also allows for testing different servers to optimize performance, while supporting simultaneous connections for efficient use.
What is Buffered VPN's Logging Policy?
Buffered VPN prioritizes user privacy by not collecting or storing connection logs. With unlimited bandwidth, users can enjoy seamless browsing and streaming. The app also allows customization of connection duration. Responsive customer support ensures prompt query resolution.
Performance and Speed
Buffered VPN facilitates fast and seamless data transfer with its unlimited bandwidth, catering to the user's need for uninterrupted browsing. The app supports simultaneous connections on different devices, ensuring flexibility and convenience for the users. The server switch feature enables easy transition between servers, optimizing performance based on user requirements. Additionally, the live chat support feature provides immediate assistance, enhancing the user experience. Users can also test the speed of different servers to ensure optimal performance, affirming Buffered VPN as a reliable and efficient choice for VPN users.
Buffered VPN Speeds
Buffered VPN asserts that it consistently ranks in the top five fastest VPNs based on speed tests. In order to verify this assertion, we conducted our own set of tests. Initially, we began with a baseline speed of 70 Mbps. In general, we were thoroughly impressed with the outcomes achieved when connecting to Buffered VPN's servers in close proximity. There was hardly any discernible decline in speed observed when connecting to the server located on the US East Coast.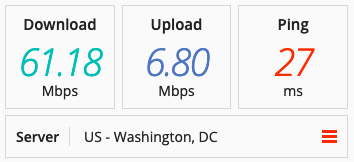 We were similarly pleased with our speed results when connecting to Buffered's UK server.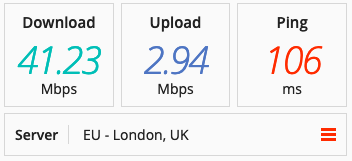 However, there was a big decrease in speed when we tried to connect to servers farther away in Japan and Australia. Both locations averaged under 5 Mbps download speed.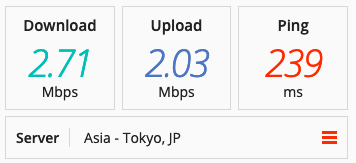 Analyzing Buffered VPN Speed
Buffered VPN's speed tests consistently demonstrate high download and upload speeds, ensuring efficient data transfer. The service offers speed tests for various servers, aiding users in selecting the fastest connection available. With servers across different locations, Buffered VPN ensures reliable speeds for seamless connections. Additionally, their bandwidth test tool allows users to monitor speed and data usage effectively. Moreover, users have the flexibility to switch servers effortlessly, ensuring optimal speed based on their specific needs. This feature provides a significant advantage when accessing online content or engaging in data-intensive activities, making Buffered VPN a reliable choice for users seeking fast and consistent performance.
Reliability and Consistency
Buffered VPN's servers maintain reliable connections, ensuring minimal downtime while offering unlimited bandwidth and consistent performance across different servers. The service's firewall test demonstrates its reliability in safeguarding your connection, complemented by customizable app settings for a secure and stable connection. Additionally, the kill switch feature further enhances the connection's unwavering reliability. With consistent high speeds and reliable connections, Buffered VPN proves to be a good choice for users seeking a fast and secure VPN service that prioritizes reliability and consistency.
Streaming, Torrenting, and Server Coverage
Buffered VPN's extensive server coverage enables access to geo-blocked content and diverse streaming libraries, offering optimized servers for high-speed, reliable connections. The support for various servers also makes it ideal for torrenting and P2P sharing, allowing users to connect to different servers based on their specific streaming or torrenting needs. Additionally, the support team provides valuable server recommendations to ensure the best possible streaming and torrenting experience, while also ensuring that users can access a wide range of content securely and privately. The varied server options cater to different user requirements, making Buffered VPN a versatile choice for streaming, torrenting, and overall server coverage.
Streaming – Does Buffered VPN Work with Netflix?
Regrettably, during our testing, Buffered VPN proved unsuccessful in circumventing any challenging geoblocks on well-known streaming sites. We made attempts to connect to Netflix using servers in the UK, Canada, and all three locations in the US; however, Buffered VPN was consistently detected and blocked by the VPN ban. Similar outcomes were observed with other popular streaming platforms. Buffered VPN was unable to bypass the VPN bans imposed by Hulu, BBC iPlayer, and HBO GO. On a positive note, our connection speed was sufficiently rapid to enable uninterrupted streaming of HD YouTube videos without any buffering delays.
How does Buffered VPN Perform for Streaming?
Buffered VPN excels in streaming performance, offering optimized servers for uninterrupted, high-quality content. The support team assists in selecting the best servers for your preferred streaming platforms. With specific server support and customizable settings, Buffered VPN ensures buffer-free streaming experiences. Need help? Setup tutorials are available from their dedicated support team.
Is Buffered VPN Good for Torrenting?
Buffered is a VPN that is conducive to torrenting, as it does not limit P2P activity on any of its servers. This means that users can connect to any server and still have access to fast torrenting speeds, provided they are in close proximity. Buffered's approach to torrenting is ideal for those who frequently engage in P2P activities and require consistent speeds throughout their sessions. Additionally, Buffered's no-logging policy ensures that users' privacy is protected while using the VPN for torrenting or any other online activity.
Pricing and Plans
Buffered VPN offers flexible plans, allowing users to choose the duration of their connection based on their specific usage requirements. The longer plans come with lower rates, ensuring cost-effective usage of the service and unlimited bandwidth without data restrictions. Users can seek information on different plans from Buffered VPN's support team, while the free trial and refund policy provide the opportunity to experience the service's benefits without commitment. This makes it a good choice for those who want to test the service before making a long-term commitment.
Buffered VPN offers a choice of different length pricing plans. Each of the plans includes the same features.
Although there is no free trial, Buffered VPN does offer a 30-day money-back guarantee on all subscription plans.
You can purchase a Buffered VPN plan using any of the following payment methods:
Major credit cards like Visa, Mastercard, Discover, and American Express
PayPal
Bitcoin for the highest level of anonymity
Breakdown of Costs and Value for Money
Buffered VPN offers various plans, all of which provide excellent value for money with unlimited bandwidth and server access. Opting for longer plans results in lower rates, ensuring cost-effective VPN usage. The customer support team is readily available to assist in selecting the most suitable plan based on individual usage needs. Additionally, the app's simple layout allows for easy review of the different plans and associated costs. Moreover, Buffered VPN's support team offers setup tutorials for different plans to maximize their value, providing users with the necessary guidance for an optimal experience. This ensures that users can make well-informed decisions when choosing a plan, enhancing the overall value for money.
Does Buffered VPN Keep Logs?
According to their privacy policy, Buffered VPN does not keep any records of user activity. However, they do keep partial connection logs for up to 30 days. These logs include the following information:
Your real IP address
The duration of your connection
The amount of data transferred during your session
The privacy policy also states that some information about your device may be collected for troubleshooting purposes, but you have the option to opt out of this data collection in the app's settings. While collecting partial logs is not ideal if your goal is total anonymity, Buffered VPN's privacy policy is likely good enough for most users.
Buffered VPN also recently moved its headquarters from Hungary to Gibraltar, where there are no mandatory data retention laws. Although Gibraltar is a British Overseas Territory, it is actually fully autonomous, privacy-friendly, and free from the eyes of the 5/9/14-Eyes Alliance.
Customer Support and Assistance
Buffered VPN's customer service team offers immediate assistance through live chat support, ensuring quick resolution of connection concerns and setup queries. Users can rely on the timely response of the support team for troubleshooting connection issues. The availability of live chat and email support for setup and configuration queries further enhances the customer assistance experience. With a focus on addressing user concerns promptly, Buffered VPN ensures reliable and efficient customer support to maintain a seamless VPN experience for its users.
Buffered VPN Customer Service
Our interaction with the customer support team at Buffered VPN was satisfactory. For assistance, you have the option to reach out to them through either an email form or their 24/7 live chat service. Both channels are prompt and offer valuable assistance. In addition, the Buffered VPN website offers ample information and resources to address common concerns. This includes an extensive FAQ section, troubleshooting guides, set up tutorials, as well as comprehensive information on VPNs and cybersecurity in general.
How Reliable is Buffered VPN's Customer Service?
Buffered VPN's customer support team ensures timely assistance for any connection-related issue, with a quick response time and live chat support. Their support team also provides server recommendations and helps with connection setup for the best user experience. With their excellent customer service, Buffered VPN offers reliable and prompt resolution to customer inquiries.
Is Buffered VPN Compatible with My Device?
Buffered VPN works effortlessly on all major platforms. In addition to their customized apps for Windows and MacOS, they have recently released dedicated applications for Android and iOS. As a result, there is no need for manual setup or configuration.
Buffered VPN is compatible with the following devices:
Windows
MacOS
Android
iOS
Linux
Tomato- or DD-WRT-enabled routers
The VPN's features are similar across platforms, with the exception of no automatic kill switch available for mobile devices. You can connect up to five simultaneous devices with a single Buffered VPN subscription.
Installation & Apps
Installing and setting up Buffered VPN is a breeze. The user-friendly website simplifies the process of selecting a plan, making payment, and downloading the appropriate software for your device within minutes. Once the installation is complete, Buffered VPN's dedicated app presents a range of server locations to choose from. While there is no automatic detection of the fastest server available, connecting to any location only requires a single click.
Although there are not many advanced options, navigating through the available settings is straightforward. Additionally, you will need to manually activate the automatic kill switch in the settings as it is initially deactivated by default. It's important to note that any changes made to the settings will not take effect until you initiate a new connection.
Frequently Asked Questions
How does Buffered VPN compare to other VPN providers in terms of speed and performance?
Buffered VPN stands out for its fast speeds and reliable performance. While it offers impressive speed, other providers like ExpressVPN and NordVPN may offer even faster connections. Factors such as server location and network congestion can also affect VPN performance. It's important to research and compare multiple providers to find the best fit for your needs.
What is the fastest VPN in the world 2023?
NordVPN – fastest VPN service in 2023
With this technology, NordVPN easily beats other providers like Surfshark and Atlas VPN, which rely on the default WireGuard version. Speed and performance. NordVPN's fastest tunneling protocol is NordLynx, and alongside it, the provider offers OpenVPN (UDP and TCP), and IKEv2.
What are the different pricing plans available for Buffered VPN?
6 month. $9.99.
12 month. $12.99.
Buffered VPN offers three pricing plans: monthly, bi-annual, and annual. The monthly plan costs $12.99 per month. The bi-annual plan costs $9.99 per month, billed every six months at $59.94. The annual plan costs $7.62 per month, billed once a year at $91.44.
What features and benefits does Buffered VPN offer compared to other VPN providers?
Buffered VPN is an excellent choice for users looking for a reliable and user-friendly VPN service. With its fast connection speeds and robust security features, Buffered VPN offers exceptional performance. However, it's important to note that it cannot unblock Netflix on its own. For that, you'll need a premium VPN provider like ExpressVPN, which has a proven track record of bypassing geo-restrictions and providing access to popular streaming services. While both services offer great features, ExpressVPN is the better option if you're looking to unblock Netflix or other streaming platforms.
Is Buffered VPN compatible with multiple devices and operating systems?
Buffered VPN offers excellent compatibility with multiple devices and operating systems, including Windows, Mac, Linux, iOS, Android, and routers. With up to five simultaneous connections per account and user-friendly apps for each platform, Buffered VPN ensures a seamless experience across all your devices.
Bottom Line
To sum up, Buffered VPN offers a comprehensive solution for online privacy and security. With its user-friendly interface and easy setup process, it ensures that even beginners can use it without any hassle. The strong encryption and protocols guarantee a high level of security for your online activities. Additionally, Buffered VPN's strict no-logging policy ensures that your data is kept private and confidential. In terms of performance and speed, it delivers reliable and consistent results, making it suitable for streaming and torrenting purposes. With its competitive pricing plans and excellent customer support, Buffered VPN is definitely worth considering for anyone looking to enhance their online privacy and security.
24/7 customer support
Unlimited bandwidth and server switches
Easy to install for Windows, Mac, and Linux
No logging of activity